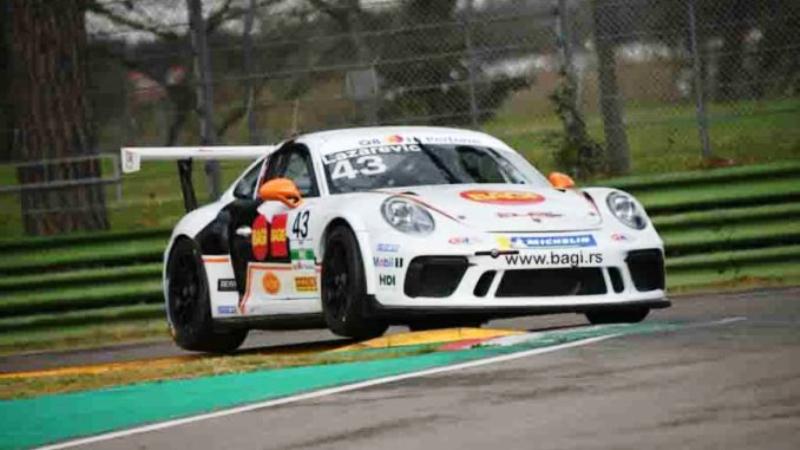 Royalist Jovan Lazrevic will compete in the Italian Porsche Carrera Cup this year.
It will drive a "Porsche 911 GT3" (991.2 series) that delivers a maximum of 485 hp from a six-cylinder boxer engine at 7,500 rpm. Jovan will defend the colors of the Duell Race team as his only one driver in PCCI.
Last weekend, the first official test of the Italian monomark series on the Enco and Dino Ferari track in Imola took place. 30 cars and drivers participated, and the Serbian competitor finished 14th overall, with a gap of 2 seconds behind the first place.
On the same occasion, the unofficial track record for the category was improved by 6 tenths.
Lazarevic finished the test as the fifth among beginners, which allowed him to enter Porsche's driver scholarship and training program, which includes both physical and mental preparation. He will have Porsche's support all year long and will have an official factory instructor and two engineers working with him.
From the scholarship driver, at the end of the Carrera Cup season, one will be selected to represent the Italian Monomarka Series in the final junior competition in the various equivalent series. The winner of the finals will have a budget of € 200,000 for racing in the Porsche Supercup.
The aim of the program is not only to identify the best drivers, but also to train young people to become brand ambassadors, who will professionally represent the Porsche family and become young instructors.
Italian Porsche Carrera Cup season starts racing in Monza on April 6-7, with live coverage on one of the Sport Club's channels.
Lazarevic recently tested at the Temple of Speed ​​and was satisfied with the recorded third time of the day.